Having a family is a big responsibility and you have to be ready to change many things and habits in your life. Well, this is a big step for someone, but also a dream for many women. When it's time to have kids and family it's also time to consider changing your car. Unfortunately, your small cute vehicle is no longer the car that suits you the best.
The family car is not only a man's responsibility. Most of the time the wife is the person that drives the kids to school, sports activities, and vacations. That's why she has the right to choose the best family car.
There are a few factors to consider when it's time to select the car that will fit the best to your lifestyle and budget. We created a list with the most important criteria that will help you to make the best purchase decision for your family's needs.
List of the most important factors
Finding the best family car might look like an easy job, but think again. The car must meet the expectations of adult and young passengers, plus to be safe for kids of any age. Does it still sound like an easy job?
These factors will help you make the decision of what is the most appropriate car for your family:
Safety
No surprise, this factor is a top consideration for 65% of the buyers. It's more likely to be higher for purchasers looking for a family car. Having kids makes you always search for ways to protect them. There are many modern systems and standards that make cars safer than ever before: stability control, traction control, and tire pressure monitors.
Most of the family vehicle models should pass the Insurance Institute for Highway Safety's rigorous standards. This is a test that shows if the automobile can survive a car crash and what damage it would cause to the vehicle. According to the score you can find which are the safest cars and make a better purchase decision.
Comfort for the passenger
Speaking about the comfort you should keep in mind that there will be kids and adults in the car and comfort for both groups is a different thing.
The car should be big and comfortable enough to fit the child seats. These safety seats are one of the top priorities of the family car. Consider the options for child seats for infants and toddlers. If all of them fit into the car seats? Is there enough space for the kid to feel comfortable? On the other hand, you should think about the comfort of the driver as well.
Value of the car
This is a very broad factor that covers cost, features, insurance, maintenance, repair expenses, reliability, and durability. You should make a list what are the priorities of these factors for your family.
Make a decision about what price you are ready to pay. Do you think a more expensive car would be cheaper to maintain? Don't forget to make research about repair expenses before you buy any car.
The best family car models
After we have a quick look at the most important factors for buying a family car is time to give you a few examples of them. The cars we have chosen to be on this list are considered the most appropriate family vehicle according to the factors we have mentioned.
Dacia Jogger
Dacia Jogger has been named the best family car at New Car Awards in 2022. That's no surprise because the car is perfect for big families. The car offers 7 seats, low running costs, and up to 1,807 liters of cargo space.
Hyundai Tucson
This is a mid-size SUV that perfectly fits the family car's requirements. There is plenty of space for front and rear passengers plus seats large enough to put child seats for infants and toddlers. Hyundai Tucson offers a huge truck which makes the car the perfect one for going on long family vacations.
Kia Niro EV
One of the newest models of Kia is a great family car. There are many new features that make the car preferable to tech lovers. The car provides enough space for front and rear passengers plus a 451-liter boot for luggage. The other advantages of the vehicle are low running costs and easy maintenance.
Toyota Corolla
Toyota Corolla is the classical model of a family car. There are battery and electric motor set-up options of the model. The car is very congenial for long-distance driving because it's large enough to offer comfort for all the passengers.
Cupra Born
This is the more modern sister of the Volkswagen ID.3. The vehicle has a number of components of the Volkswagen ID.3 but also many new features that make it preferable. Cupra Born is a great urban car that is easy to park.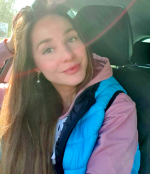 My name is Rebecca McCarthy and I am an American girl with British heritage residing in the beautiful city of Nashville, Tennessee. I have always had a keen interest in cars, particularly brand new ones that showcase the latest technology and design features. I am also passionate about travelling and experiencing new cultures, as well as enjoying hot summer days with friends and family.
As a strong and independent woman, I have always been fascinated by the world of cars, which is often seen as a male-dominated industry. LadyAutoBlog is a platform that allows me to share my insights and perspectives on the latest developments in the automotive world, while also highlighting the important role that women can play in this field.
Through LadyAutoBlog, I hope to inspire and encourage more girls and women to take an active interest in cars and to pursue careers in the automotive industry. I believe that women have a unique perspective and approach to the world of cars, which can bring about new innovations and ideas that can benefit the industry as a whole.
In addition to my passion for cars and travel, I also enjoy spending time with strong and confident men who share my interests and values. Together, we explore new destinations, try out new cars, and enjoy all that life has to offer.