Driving is not a big deal if you do it on an empty road with 20 km/h, but you know this is not the case. While you are behind the wheel you should pay attention to many things happening in and outside the car. You have to follow the traffic situation, be aware of road signs, speed limits, what other drivers do, what you do and many more things that bring you headaches.
The best advice is to stay calm and focused but it's easier to say than to do it. Fortunately, there are some phone apps that can save you from stress while you are driving. There is a list of the top 9 driving apps that will help you to follow the road situation.
1.Waze – stay up to the traffic situation
This app is super useful because it shows recent traffic situations. It helps you to adjust to what is happening and gives you enough time to make important decisions like if you need to decrease the speed.
Waze also shows if there is a camera, car cash, or another event on the road that you should be careful for. You can also point to hazards and warn other drivers to put extra attention.
The app is available for iOS and Android for free.
2.Smart Dash Cam – a clever gadget
This app is a replacement for the costly dash cameras. Smart Dash Cam transforms your phone into a road camera which is getting required lately. Actually, having one is a bonus, because dash cameras are admissible in court as evidence. Using Smart Dash Cam could save you money for a real one and also can lower annual payments for road users.
The app is available for iOS and Android for free.
3.Just Park – save time in finding a parking spot
Living in big cities has many advantages but also one big disadvantage – finding a parking space. How many times have you driven around the neighborhood trying to find a free spot? Just Park is an app that helps you reserve your parking space in car parks and private driveways. The app shows a variety of parking spots around you.
Can it be better? Yes, of course. The app is available for iOS and Android for free.
4.Find My Parked Car – for the moments we feel silly
Well, it can happen to everyone – trying to figure out where we parked our car after we spent many hours shopping. Find My Parked Car is the app that will save you from headaches trying to remember where is your car.
The app uses a GPS system that allows you to save the location or even putting an alarm when the time of the paid parking zone is about to finish.
This app is also available for free for iOS and Android systems.
5.SpeedPro – checks the speed in real-time
This app has the role of mileage, but it's more punctual. SpeedPro shows the speed of a mile per hour via a GPS system. The app also gives information about the elevation and topography of the area you drive. Using SpeedPro you will always know to want to expect from the road and want is your real-time speed.
The app has a subscription plan of 1.99 $ and it's available only for iOS.
6.iOnRoad – always know what is happening in front
This app uses the phone's camera to show what is the road situation in front. It's very helpful because it shows hazards like car crashes or big holes in the road. This way you can quickly adjust your speed and reactions which can save your life.
To download the app, you have to pay only 4.99 $. iOnRoad is available for Android and iOS.
7.Petrol Prices – save money
Lately, apps like Petrol Prices are getting very popular. It's not a secret that everyone tries to save some coins when it's time to fill the tank. This app compares prices between gas stations and notifies you of the cheapest petrol garages near your location.
The app is available for iOS and Android for free.
8.Aceable – best for newbies in driving
Everyone was there, don't worry. Becoming a good driver needs practice but before that, you should get prepared enough to go on the road. This app is the perfect one for young drivers that need to gather confidence. Aceable is an online driving school app that helps you learn safe driving skills and traffic laws.
9.Roadtrippers – for journey lovers
If you love long spontaneous trips this is the perfect car for you. The Roadtrippers app helps you to plan your trip and shows you variations of roads to get to your final destination. The apps show not only the road but also hotels, restaurants, and attractions where you can drop off to rest or visit. The best what the app does is give you information on how much gasoline you will need.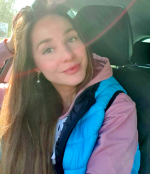 My name is Rebecca McCarthy and i am just an ordinary American girl from British heritage that lives in Nashville, Tennessee, that also enjoys hot summer days, travelling, strong men and brand new cars.
LadyAutoBlog is just a small portion of my car philosophy and it's the perfect reflection of my life and how i feel about the involvement of girls in this pretty distant world.