When you have kids their safety and well-being is task number for you. This is very important when you are on a road with them. Doesn't matter if you drive them 10 minutes to school or hours for summer vacation – the safety of your children, while they are in a car, is a top priority.
Your kids deserve to be as safe as possible in the car. To keep them safe, you need to take into account a few things. Follow these child passenger safety guidelines to ensure their well-being while riding in a vehicle.
Use proper child seats and boosters according to the age of the kids
A proper child's seat is obligatory for any kid below 12 years old. Depending on the age and size of the child, different seats are required. To choose the most appropriate seat you should take into account the child's age, height, and weight.
Keep in mind there are different car models and some of the child's seats don't fit all the models. Our advice is to follow the vehicle guidelines where you can find information on what type of child's seat would fit the best.
There are a few more recommendations that will help you to choose the most appropriate and safest seats for your kids:
An infant must be in a rear-facing seat;
A toddler can be in a front-facing seat;
A booster seat is required for a child who has outgrown a car seat but is still too small for a seat belt.
Don't forget to active child safety locks
While driving with kids in the back seats, make sure you keep the doors and windows closed and locked. This will prevent dangerous situations such as opening the door or window on the move.
Don't forget kids are curious and can't predict what is dangerous for them. That's why if you drive your kids for a long time be sure you active safety lock system. This will also save you from unpleasant situations if the kids decide to throw something out the window while the car is moving.
Buckle up the safety belts
Many parents think that, as there are some special seats for children, they don't need to put their kid in a safety belt. This is not right. It is very important to put on the safety belt even if you have already placed your child in a separate seat.
There is another very common situation that many parents don't consider dangerous – carrying kids in their lap. This way there is nothing to protect them from impact during a car crash.
Have a look at what your kids play with during the ride
It is a well-known fact that children love to play during car rides. While this can certainly be a great way to keep them entertained, it is important to make sure that their play is safe and does not distract the driver.
Some toys and items would be very dangerous for playing in a car. Always keep in mind what your kids bring to the car. Consider which of them would be risky and dangerous in an accident.
Don't let children eat in the car
Any road trip can be made safer by remembering not to allow children to eat in the car. How about providing snacks before getting in the car, and then offering toys for entertainment and distraction instead of relying on food? Or go for safer snacks that don't pose as many choking hazards.
If you go for a long trip better plan breaks for lunch or snacks than let your kids eat in the car. When you're travelling with young kids, look for places with playgrounds or other kid-friendly activities.
Don't open the sunroof while you are travelling with kids
If you have kids, you know that they can be unpredictable. And one of the last things you want is for them to start acting up while you're driving.  Your car might have a sunroof, but that does not mean it is safe for your child to play around with.
Don't be fooled! Your kids will definitely want to show their heads through the open sunroof, no matter how many times they promise they won't. When you are out with young kids make sure that you refrain from opening the sunroof in case there are children in your car.
In conclusion, when you drive with your kids on the back seat you should be very careful. You must take this responsibility as the most important task in your life. Just a small destruction can cost you a lot. There are a few simple things you can do to help keep your kids safe when you're driving:
Make sure they're always buckled up in a properly fitting car seat or seat belt;
Drive at a safe speed and keep a close eye on your surroundings;
Avoid distractions while driving, such as cell phones.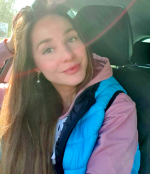 My name is Rebecca McCarthy and I am an American girl with British heritage residing in the beautiful city of Nashville, Tennessee. I have always had a keen interest in cars, particularly brand new ones that showcase the latest technology and design features. I am also passionate about travelling and experiencing new cultures, as well as enjoying hot summer days with friends and family.
As a strong and independent woman, I have always been fascinated by the world of cars, which is often seen as a male-dominated industry. LadyAutoBlog is a platform that allows me to share my insights and perspectives on the latest developments in the automotive world, while also highlighting the important role that women can play in this field.
Through LadyAutoBlog, I hope to inspire and encourage more girls and women to take an active interest in cars and to pursue careers in the automotive industry. I believe that women have a unique perspective and approach to the world of cars, which can bring about new innovations and ideas that can benefit the industry as a whole.
In addition to my passion for cars and travel, I also enjoy spending time with strong and confident men who share my interests and values. Together, we explore new destinations, try out new cars, and enjoy all that life has to offer.