Are you going to take your first long-distance trip? We guess you are a bit worried about it. Driving to work is one thing, but driving across the country is something else.
There is a kind of freedom when you hit the open road. There isn't a traffic jam, constantly beeping cars, and nervous drivers. There is only the horizon in front of you. Driving long-distance is a great way to get to know the country and to visit some places you only heard of before, but it also needs your full attention for a long time.
Getting prepared with 9 safety tips we've collected will help you to stay calm and get to your destination quickly and safely.
1. Plan Your Trip Ahead
Take time to plan your trip ahead and research the road you are going to take. We suggest you put on the maps all the places where you can stop for gas, food, or a break. If you know somebody that has already driven on this road you can ask for some restaurant recommendations.
2. Check Your Car for Faults
Before you go on a long journey, make sure your car doesn't have any faults. This is very important because any unexpected damage would be dangerous and would cost you an accident. Here is a short list with the most crucial things to check before hitting the road:
Check the oil levels;
Check the engine coolant;
Check the headlights. Change the bulbs if there is a need.
Test the brake;
Check the tire pressure.;
Inflate or deflate as needed.
3. Add Comfort but No Distractions
Prepare your favorite snack and a few bottles of water. You are not able to know if the nearest gas station is working, so is always better to have water and snacks in the car. Music is very important as well. Better to prepare your favorite driving hits than search for good radio while driving. You can also think about how to make your seat more comfortable.
4. Take Frequent Breaks
It's recommended to take a break every two hours. Getting out of the car will help you to stay alert and get some fresh air. It's a good idea to stop next to a gas station or aside road parking space where is safe and you can have a small walk.
Many people skip these important breaks because they want to arrive as soon as possible. This is a big mistake because the driver has to be relaxed and focused. The brain gets tired when it needs to stay focused for so long time.
5. Obey The Road Rules
Not following the road rules and the speed limit is the reason behind many car accidents. If there is a warning sign it means is there for a reason. Never underestimate the road rules and try to break them because it can cost your safety.
Many drivers don't obey the road rules and they become to cause car accidents. If you follow the speed limits you will be able always to stop on time and prevent an accident even if the other driver didn't obey the speed limit.
6. Often Check The Forecast
Check the forecast and the road conditions before you take a long-distance trip. Even if the weather seems to be nice in the city you start the trip, it doesn't mean it will stay all way long. When you stop to take a break always check the weather and road conditions for the next 100 km.
There are many websites that show road conditions in real-time. This will show you if you have to take extra safety measures or if there is a dangerous event ahead.
7. Prepare a Roadside Safety Kit
The emergency roadside safety kit is a must to have a thing in your car. Check if you have all the essentials ready before you take a long-distance road. Here is a list of the most important things not to forget to put in the roadside safety kit:
Jumper cables;
Basic vehicle tool kit;
Flashlight with extra batteries;
Reflective triangles;
First aid kit;
Reflective vest;
Fire extinguisher;
8.Avoid Driving at Night or When You are Tired
Driving at night is harder because visibility is lower. It's also the time of the day when you feel the most tired. This is not a good combination for safe driving. Better find a place like a roadside motel where you can take a few hours of sleep and continue your trip on the next day.
9.Use Mobile Apps
Nowadays we can use the advantages of our mobile phones to keep us away from boredom during a long-distance trip. There are also some very useful apps that will help to follow road situations and to take safety measures on time. You can find more about them in this article: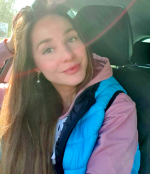 My name is Rebecca McCarthy and i am just an ordinary American girl from British heritage that lives in Nashville, Tennessee, that also enjoys hot summer days, travelling, strong men and brand new cars.
LadyAutoBlog is just a small portion of my car philosophy and it's the perfect reflection of my life and how i feel about the involvement of girls in this pretty distant world.