Welcome to our guide where you will find some ideas about what to visit during your trip to Sofia. Moreover, here you will get inspired not only about the city but also about the best way to explore any place.
We are going to present you with some useful tips about renting a car in Sofia service so you will be ready to discover the hidden gems of the city. Traveling by car gives you the freedom and flexibility to visit more of the best places in and around the city.
We guess you know that Sofia is not only the capital of Bulgaria but also the biggest city in the country and has a rich history and culture. The captivating city's rich stunning architecture and vibrant mood make it one of the most interesting cities in the Balkans.
Sofia offers many attractions – from the modern city center to the calming nature in Vitosha the city combines typical capital life with charming nature views. There are many ways to explore the city but the most convenient is for sure renting a car.
Exploring Sofia's Charm
Before diving into the advantages of renting a car we want to appreciate the charm of Sofia and give you some special recommendations on what to visit during your stay in the city.
As we mentioned the Bulgarian capital is rich in many types of attractions and things to do related to history, culture, and exploring nature. Let's check what Sofia offers for you.
Historical wonders
Sofia is steeped in history, with a rich and diverse heritage spanning centuries. A walk through the city will reveal many historical wonders that reflect its storied past including the Alexander Nevsky Cathedral, St. George Rotunda, and the National Palace of Culture.
There are many hidden historical treasures, churches, and monuments that lead you through the lavish history of the city.
Nature beauty
The citizens of the city are lucky because they can admire the beauty of Vitosha Mountain which offers also many hiking and skiing opportunities just a stone's throw away from the urban center.
If you want to explore Vitosha you can consider including Boyana Waterfall, Cheny Vrah Peak, and other places which are located in National Park Vitosha.
Cultural Diversity
Sofia is a city with a rich history, which has left a diverse cultural heritage of many civilizations and peoples who lived in these lands. Today this culture can be seen most in the city's architecture, food and people.
The capital of Bulgaria also hosts many festivals that make the city a very interesting place to visit for young and old alike.
Sofia's cultural diversity adds depth and richness to its cultural tapestry, making it a vibrant and exciting destination for travelers seeking to combine history, tradition, and contemporary lifestyles.
Rent a car in Sofia – advantages
In Sofia, there are plenty of attractions worth visiting, and renting a car will help to explore them and the surrounding areas as well. This service has many pros and will allow you to take the best of your time in Sofia.
Freedom to explore more from Bulgaria
Bulgaria is not just Sofia, but the location of the city offers you great connections to other very important places in the country.
Renting a car is the best way to explore more of the most interesting attractions. Consider a day trip to the Rila Monastery, a UNESCO World Heritage Site, or the charming town of Plovdiv, both a few hours' drive from Sofia.
Affordable service
Prices in Bulgaria are still lower than in other European countries and this makes the service rent a car in Sofia a budget-friendly choice especially if you travel with a group of friends.  You can also share the driving responsibilities, making long journeys more manageable.
Avoid the public transport
The public transport in Sofia is reliable and most of the buses are new and modern. Many people use public transportation which makes buses and metro very crowded and sometimes not the best choice.
Renting a car provides a more comfortable and private travel experience and also saves time especially ig you rent them from the airport.
Convenient airport pick-up
Forget about running after buses with all your luggage. You will save time and money by picking up your rental vehicle at the airport, instead of having to find transportation to your hotel. This is how you can start your stay in Sofia in a calm and stress-free way.
When you rent a car in Sofia, you have the freedom to explore the city and its surroundings at your convenience.
So, when planning your Sofia adventure, consider the many advantages of having your own wheels to navigate this captivating destination. Plan your trip and trust SpeedyCars.eu to book your rental vehicle in advance.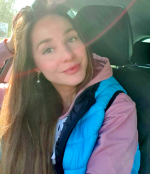 My name is Rebecca McCarthy and I am an American girl with British heritage residing in the beautiful city of Nashville, Tennessee. I have always had a keen interest in cars, particularly brand new ones that showcase the latest technology and design features. I am also passionate about travelling and experiencing new cultures, as well as enjoying hot summer days with friends and family.
As a strong and independent woman, I have always been fascinated by the world of cars, which is often seen as a male-dominated industry. LadyAutoBlog is a platform that allows me to share my insights and perspectives on the latest developments in the automotive world, while also highlighting the important role that women can play in this field.
Through LadyAutoBlog, I hope to inspire and encourage more girls and women to take an active interest in cars and to pursue careers in the automotive industry. I believe that women have a unique perspective and approach to the world of cars, which can bring about new innovations and ideas that can benefit the industry as a whole.
In addition to my passion for cars and travel, I also enjoy spending time with strong and confident men who share my interests and values. Together, we explore new destinations, try out new cars, and enjoy all that life has to offer.