Buying a new car can be a daunting task, especially if it's your first time. With so many options available in the market, it's easy to feel overwhelmed and confused.
But with a little research and careful planning, you can make an informed decision and drive away with the car of your dreams.
In this comprehensive guide, we'll walk you through the steps involved in buying a new car.
Buying a New Car Step by Step
Buying a new car can be an exciting and rewarding experience if you take the time to research and plan your purchase.
By determining your budget, researching different car models, considering financing options, negotiating the price, and finalizing the purchase, you can make an informed decision and drive away with a car that meets your needs and fits your lifestyle.
Determine Your Budget
The first step in buying a new car is to determine your budget. This will help you narrow down your choices and avoid overspending.
You should consider not only the purchase price of the car but also other expenses such as insurance, maintenance, and fuel costs. It's important to be realistic about what you can afford, so you don't end up in debt or with a car you can't afford to maintain.
Research Different Car Models
Once you have determined your budget, the next step is to research different car models. You should consider factors such as size, fuel efficiency, safety features, and overall reliability.
You can start by browsing car websites and reading reviews from experts and other car owners.
You can also visit dealerships to test drive different models and get a feel for them. Don't be afraid to ask questions and take your time to make an informed decision.
Consider Financing Options
Unless you have enough money to buy a car outright, you'll need to consider financing options.
You can finance your car through a bank or credit union, or you can use the dealership's financing options.
It's important to compare interest rates and terms to find the best option for you. You should also be aware of any fees associated with financing, such as origination fees or prepayment penalties.
Negotiate the Price
Once you have found the car you want, it's time to negotiate the price. This can be intimidating, but remember that dealerships are in the business of selling cars and want to make a sale.
You should research the average price for the car you want and use this as a starting point. Be firm but polite and be willing to walk away if you feel you're not getting a fair deal.
Consider Add-Ons
When buying a new car, dealerships will often offer add-ons such as extended warranties, gap insurance, or rustproofing.
While some of these add-ons may be useful, others may be unnecessary and add to the overall cost of the car. Be sure to research each add-on and decide if it's something you really need.
Finalise the Purchase
Once you have negotiated the price and decided on any add-ons, it's time to finalise the purchase. You'll need to sign a purchase agreement and any financing paperwork.
Be sure to read everything carefully and ask questions if something is unclear. Don't be pressured into signing anything you're not comfortable with.
Take Delivery of Your New Car
The final step is to take delivery of your new car. You'll need to arrange for insurance and registration, and the dealership will likely go over the car's features and functions with you.
Be sure to inspect the car thoroughly before driving away and ask any final questions you may have.
Tips for Buying a New Car
The following tips could be very helpful for you:
Do your research before buying a car. Consider factors such as size, fuel efficiency, safety features, and overall reliability;
Determine your budget and be realistic about what you can afford;
Explore the financing options to find the best interest rates and terms;
Negotiate the price of the car and be willing to walk away if you're not getting a fair deal;
Be aware of any add-ons and decide if they're something you really need or not;
Read and understand all paperwork before signing;
Inspect the car thoroughly before driving away;
Take the car for a test drive before making the final purchase decision.
Benefits of Buying a New Car
Buying a new car has its advantages over buying a used one. Some of the benefits include:
More Reliable
A new car is less likely to break down or require costly repairs in the near future, as everything is new and under warranty.
Safer
Newer cars often come equipped with the latest safety features and technology, such as backup cameras and lane departure warnings, which can provide added protection on the road.
Customization
With a new car, you can choose the exact model, colour, and features that you want, rather than settling for what's available on the used car market.
Financing
New car financing options often come with lower interest rates and better terms than used car financing.
Resale Value
A new car will hold its value better than a used car, making it a better long-term investment.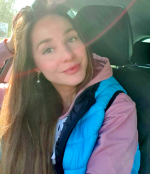 My name is Rebecca McCarthy and I am an American girl with British heritage residing in the beautiful city of Nashville, Tennessee. I have always had a keen interest in cars, particularly brand new ones that showcase the latest technology and design features. I am also passionate about travelling and experiencing new cultures, as well as enjoying hot summer days with friends and family.
As a strong and independent woman, I have always been fascinated by the world of cars, which is often seen as a male-dominated industry. LadyAutoBlog is a platform that allows me to share my insights and perspectives on the latest developments in the automotive world, while also highlighting the important role that women can play in this field.
Through LadyAutoBlog, I hope to inspire and encourage more girls and women to take an active interest in cars and to pursue careers in the automotive industry. I believe that women have a unique perspective and approach to the world of cars, which can bring about new innovations and ideas that can benefit the industry as a whole.
In addition to my passion for cars and travel, I also enjoy spending time with strong and confident men who share my interests and values. Together, we explore new destinations, try out new cars, and enjoy all that life has to offer.