The process of buying a new car could be more difficult for women than for men. In general, women feel less confident when it comes to vehicle maintenance. On the other hand, women drivers are getting almost half of the number of drivers in the US. This creates a very big group of potential car buyers.
Most women have some reservations during the buying process. Women drivers worry about being scammed when buying a car. Moreover, they tend to be insecure in their choice and usually ask for help or follow someone's preferences.
If you are one of those women that are about to buy her new car, but you have zero experience in that you need guidance. Follow these tips or steps (call them whatever you want) and be sure you will make the best choice.
1.Don't Make Impulsive Purchases – Always Do Your Research First
Buying a car could be considered an investment. When you are going to spend money on such an important purchase, you have to do deep research on the auto market. Buying a car is the second largest purchase decision, after buying a home. That's why you have to take time to find some options and compare them.
If you buy a second-hand car do some research on what you have to change. In some cases, expenses for a second-hand car are equal to the price of a new car.
2.Make a List of Your Criteria
Ask yourself "What is the most important for me when I buy a car?" Is this the color, the engine, or the price? Make a list with the most important criteria. On the top put the features that you won't give up. Remember buying a new car is a long-term investment. Don't make a compromise with the most important features of your list. If you do so there is a possibility you won't be satisfied with your choice.
3.Set up Your Budget
For many people, price is the feature that stays on the top of the list criteria. Our advice is before you set a budget consider the full price of the vehicle, including taxes, fees, and any potential interest. Then search about if this budget is relevant to your other criteria. If not think about how you can increase it, or which criteria you can give up.
4.Make a List of Your Options
After spending time researching you will have your favorite cars. Make a list of them and write why you like each car. This will help you to see what are your options and which of them fits best your criteria. Try to narrow down the choice to 3-4 cars.
5.Get the Estimate of the Chosen Cars
There are some apps that help car buyers to get a real estimate of a vehicle. One of them is TrueCar's True Cash Offer – an app that shows how much your car is worth based on its condition. This information will help you to evaluate your extra costs and not be scammed by selling the car at a higher price.
6.Work with a Reliable Car Dealer
It's to obligated but is recommendable to work with a car dealer that can help you to negotiate and get a better price. These people can find out if there is something wrong with the deal and can save you from scams. On the other hand, they have long experience so they can help you to choose the car that needs less maintenance.
7.Go to See the Cars You Put on the List
After you have your options list and your dealer (it's not necessary) you can go to see the cars you've chosen. This is the most important step because web photos and info might not be correct. You can even have a test drive and feel which car you feel the best. If you can't choose any, start again from the beginning.
8. Don't Hesitate to Ask Questions
When you go to see a car, you might have many questions. Don't hesitate to ask whatever you have in your mind. Sometimes, women get shy to ask questions when they buy a new car because they are scared to look stupid. Better to ask any question that pops up in your mind, than to buy a car and find this wasn't the best choice.
9.Bring a Auto Mechanic with You
If you have a friend that works in the auto service sector is a good idea to ask him to join you. The previous owner will tell you all you want to hear only to buy his car. Your friend or any other mechanic will see the situation clearly and will give you his expert evaluation – if this car is good for you or not.
10.Don't Feel Pressure To Buy on the Spot
If you can't make the decision at the moment is better to take your time to think than buy a car you're not sure about. After a long time searching your brain is tired to think about cars. Take a few days to clear your mind, the decision will come naturally. If not continue searching.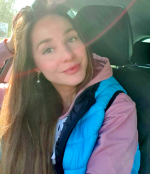 My name is Rebecca McCarthy and I am an American girl with British heritage residing in the beautiful city of Nashville, Tennessee. I have always had a keen interest in cars, particularly brand new ones that showcase the latest technology and design features. I am also passionate about travelling and experiencing new cultures, as well as enjoying hot summer days with friends and family.
As a strong and independent woman, I have always been fascinated by the world of cars, which is often seen as a male-dominated industry. LadyAutoBlog is a platform that allows me to share my insights and perspectives on the latest developments in the automotive world, while also highlighting the important role that women can play in this field.
Through LadyAutoBlog, I hope to inspire and encourage more girls and women to take an active interest in cars and to pursue careers in the automotive industry. I believe that women have a unique perspective and approach to the world of cars, which can bring about new innovations and ideas that can benefit the industry as a whole.
In addition to my passion for cars and travel, I also enjoy spending time with strong and confident men who share my interests and values. Together, we explore new destinations, try out new cars, and enjoy all that life has to offer.